Victor Figueroa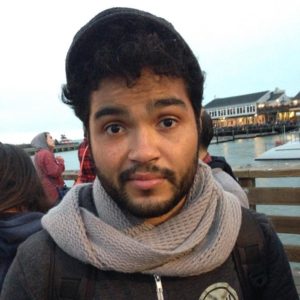 Just a quiet goofball millionaire who skydives regularly except I pay someone to jump out of another plane and catch me in midair. So far I have the quiet goofball part down…
While I'm not funding my skydiving ventures, I work two jobs.  The first, as a full-time media production consultant/supervisor at USC's Annenberg School for Communication and Journalism, which involves teaching students audio and video editing for news.  I also spend a great deal of time assisting acclaimed documentarian Dan Birman with his news documentary course and supervising USC Impact – a student-run documentary news magazine.
Second, I work part-time editing and producing podcasts.  I helped edit the rough cut and trailers for the first episode of LA Times' Dirty John and I, Survivor.  Currently, I edit the weekly comedic investigative podcast Oh No, Ross and Carrie, as well as the bi-weekly show on California housing Gimme Shelter.  I also had a large part in creating popular audio dramas Darkest Night and Deadly Manners.  The former is a fictional horror mystery that often involves thinking of creative ways to make deadly sounds, like pulverizing pounds of meat in a giant bowl, smashing a watermelon in my kitchen, or searching for nearby farms for authentic piglet squeals.  The latter, Deadly Manners, is a classic murder mystery narrated by Lavar Burton and starring celebrities Kristen Bell, Timothy Simons, RuPaul, and more.
My media career started out while I was an undergrad at New York University, at first just working several odd jobs (phone surveyor, coat checker, gym employee, you name it) until I got my first internship at WOR Radio. From there I have continuously worked in the journalism and entertainment industry for companies such as KCRW's Press Play, ABC News Radio, TPN retail marketing, Sirius XM Satellite Radio, the Paragon Collective, and CBS Weekend News. And while I have a passion for creating a variety of media, I believe when done right, radio is the most captivating platform.
And since my days growing up in Maryland, 30 minutes south of Baltimore (this usually means nothing to most people but you never know). I spend my free time running around playing the best sport around – ultimate frisbee.
Contact Info:
Email:  vaf229@gmail.com